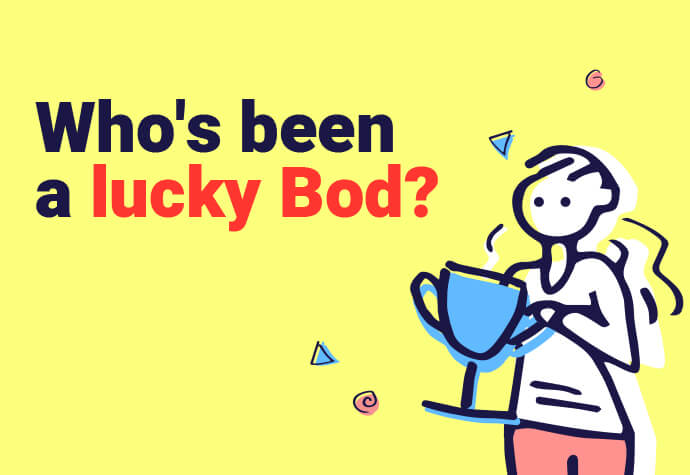 There's not only points up for grabs on SurveyBods – you'll also earn tickets, which give you entries into our monthly prize draw to win up to £100 worth of points or prizes*.
Our most recent winners:
Sam, from Leeds (April, 2023)
Meika, from York (March, 2023)
Emily, from Clacton-on-Sea (February, 2023)
Ian, from Warrington (January, 2023)
David, from Kingsnorth (December, 2022)
Sarah, from Cardiff (November, 2022)
Damien, from London (October, 2022)
Will, from Sutton (September, 2022)
Justin, from Manchester (August, 2022)
Gary, from London (July, 2022)
Denis, from Newcastle (June, 2022)
Linda, from London (May, 2022)
Vicky, from Cambridge (April, 2022)
Rebecca, from Cambridge (March, 2022)
Keith, from Cambridge (February, 2022)
Elizabeth, from Sheffield (January, 2022)
Sophie, from Liverpool (December, 2021)
Ann, from Southampton (November, 2021)
Shamrez, from Birmingham (October, 2021)
Keith, from Edinburgh (September, 2021)
Michelle, from Coventry (August, 2021)
Paul, from Nottingham (July, 2021)
Michael, from Liverpool (June, 2021)
Joe, from Nottingham (May, 2021)
Irene, from Swansea (April, 2021)
Victoria, from Southwark (March, 2021)
Raymond, from St Helens (Feb 2021)
Robert, from Exmouth (Jan 2021)
Want to be our next winner? Read on to find out more about our monthly prize draws!
How do I earn tickets?
You'll earn a ticket for each survey you start that you don't qualify for, whether that be because you don't meet the specific criteria we're looking for or because all places have been filled, for example.
We may also offer tickets rather than points for some of our surveys (usually those that'll take you less than a minute to complete). This'll always be communicated in the email invite you receive.
What do I do with my tickets?
One ticket = one entry into our next draw. The more tickets you have (you can find these on your SurveyBods account dashboard), the higher your chances of winning.
A winner is then chosen within two weeks of the closing date, which is the month end. Once a winner has been drawn your tickets will reset, and the winner will receive an email from us with details of their prize.

*You can find our full Prize Draw T&Cs here.


Back to news